Description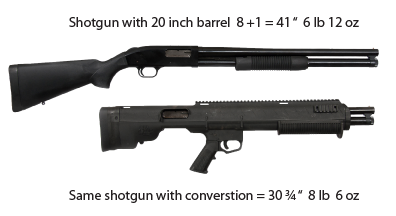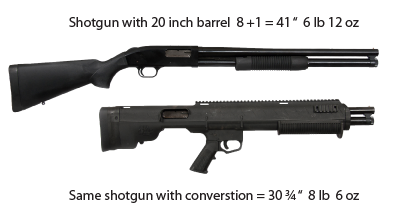 What Remington Model 870's work with this conversion?
This conversion kit only fits 2 ¾ and 3 inch 12 gauge Remington 870 shotguns with the plain barrel with bead sight. It will not work with a 3 1/2 inch receiver, ribbed barrel, 18.5 inch barrel with rifle sights.
What type of material is this stock made of?
The Bulpup kit is constructed from FRP (glass reinforced polymer) which creates a very strong and durable product.
Can I use a longer barrel (18 inch) and extended mag tube?
Yes, with the open front end design a longer barrel and mag tube can be used. (extended mag tube not included) Will not work with ATI and Wilson Combat extension with large attachment nut.
Does the kit come with sling attach points?
Yes there are 2 sling attachments included that are ambidextrous and 3 locations on the stock for them to fit, front and rear for a 2 point and a center one for 1 point.
Is this conversion legal?
If your shotgun is legal before conversion, it will be legal after conversion. We recommend checking your state and local gun laws before converting.
Does the conversion require a license or permit?
No, this conversion is classified only as a non-folding shotgun stock. There are no federal permits, regulations, fees associated or required with its use.
Features and Benefits
Designed to accept a wide variety of aftermarket AR-style accessories
Familiar AR-style grip and safety Split-trigger for increased safety
Variety of rail mounting areas for tactical accessories
Super-smooth and contoured slide release area
Rugged shell deflector for left handed shooters
Ergonomically shaped and easy-to-grip slide forearm
Generous access to loading port
Conversion assembles easily with tools provided
Easy to follow conversion instructions included
Multiple ambidextrous sling points for 1-point and 2-point sling
Field strips with tools included under butt pad
Manufactured from rugged, hi-tech, molded materials
Features an easy-to-grip, non-reflective surface texture
Does not in any way alter the original shotgun
Overall thickness: 2.75", width: 8", length: 28"
Shipping weight: 2 lbs 12 oz, package dimensions: 4"x12" x33"