Description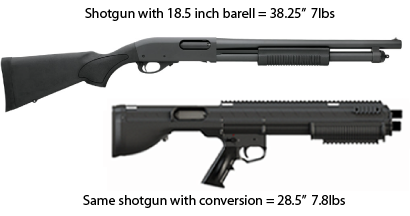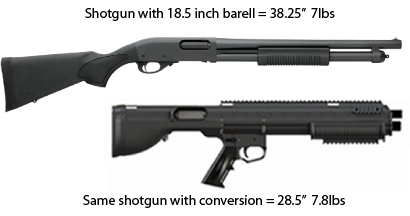 Features and Benefits
Designed to accept a wide variety of aftermarket AR-style accessories
Familiar AR-style grip and safety Split-trigger for increased safety
Variety of rail mounting areas for tactical accessories
Super-smooth and contoured slide release area
Rugged shell deflector for left handed shooters
Ergonomically shaped and easy-to-grip slide forearm
Generous access to loading port
Conversion assembles easily with tools provided
Easy to follow conversion instructions included
Multiple ambidextrous sling points for 1-point and 2-point sling
Field strips with tools included under butt pad
Manufactured from rugged, hi-tech, molded materials
Features an easy-to-grip, non-reflective surface texture
Does not in any way alter the original shotgun
Overall thickness: 2.75", width: 8", length: 28"
Shipping weight: 2 lbs 12 oz, package dimensions: 4"x12" x33"
FAQ's
What gun does this fit?
This conversion kit only fits 2 ¾ and 3 inch 12 gauge Mossberg 500 shotgun with plain barrel with bead sight. It will not work with a 3 1/2 inch receiver, ribbed barrel, 18.5 inch barrel with rifle sights. Mossberg's with bayonet lugs or with a barrel brake that is non-removable. We have found that on some Mossberg's the metal forearm tube is shorter than others, in this case approximately 1-3/16 inch must be cut off the front of our forearm tube so the tube nut can be reinstalled.
Maverick's/Mossberg's with the one piece forearm will not work.
What is it made of?
Unit is made of glass reinforced polymer.
Does kit come with tools to disassemble the shotgun?
No the kit come with assemble tools but not tools needed to disassemble the shotgun.
Can I use a longer barrel (18 inch) and extended mag tube?
Yes, with the open front end design a longer barrel and mag tube can be used. (extended mag tube not included) Will not work with ATI and Wilson Combat extension with large attachment nut.
Does the kit come with sling attach points?
Yes there are 2 sling attachments included that are ambidextrous and 3 locations on the stock for them to fit, front and rear for a 2 point and a center one for 1 point.
Is this conversion legal?
If your shotgun is legal before conversion, it will be legal after conversion. We recommend checking your state and local gun laws before converting.
Does the conversion require a license or permit?
No, this conversion is classified only as a non-folding shotgun stock. There are no federal permits, regulations, fees associated or required with its use.
What do I need to put it together?
All items needed to assemble are included in your order. Items to disassemble your shotgun are not. You will need to remove butt pad, stock and forearm.
How is the trigger linkage?
We focused on trigger performance in our stock resulting in a trigger squeeze of nearly zero friction. It is as close as possible to the original trigger performance.
In what colors do you offer?
Black is our only production color at this time.
How much does it weigh?
2lbs. and 12 oz. is the shipping weight of your conversion.
What is the shortest overall length I can legally make my shotgun?
Without special ATF paperwork the shortest possible is an 18" barrel with a 26" overall length. Our conversion will not work with anything shorter than an 18" barrel.
Is it possible the conversion parts can be damaged?
Anything can be broken, but it has been tested vigorously and still proven reliable under many extreme and adverse conditions. In the event damage occurs, your purchase is covered under warranty as stated under our Terms and Conditions info. Any damage resulting from what we consider beyond the scope of our conversion instructions and normal handling or intended use will void your warranty.
How difficult is the installation?
It's easy and can be performed in less than1 hour with the tools provided. Your conversion comes with clear instructions and requires no modification to your firearm other than the removal of your rear stock and forearm. We also have an install video on the website.
How difficult it is to remove the stock to clean the firearm?
The stock was designed to allow easy removal of the upper hand guard and the rear receiver cover assembly without disassembling the main parts of the stock.
Do you have a stock for "lefties"?
No. With the shell deflector that is on the unit it is left hand shooter friendly.
Where is it restricted?
It is the purchaser's responsibility to follow and keep up with the changing legalities of gun laws within local regions and states check with your local law enforcement to find out the latest laws. No exception on shipping to restricted regions unless granted permission to be authorized to do so. If in doubt as to legality, do not purchase.