Description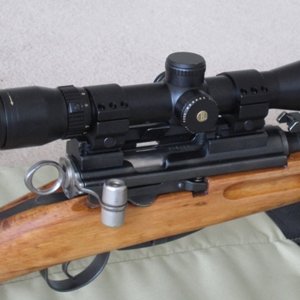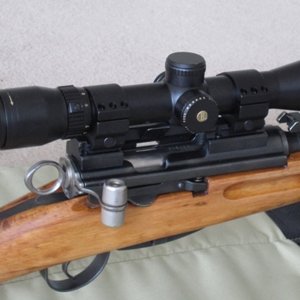 Rock Solid Industries has once again taken another tough receiver design and developed a scope mount to fit the needs of the American shooting enthusiast. The Swiss K-31 rifle offers its own unique set of problems when trying to mount any type of optical sight system. Those of you who wish to scope one of these rifles were left with very few options until now. Our unique design allows the mount to be placed directly center on the receiver. Our engineering team also solved the problem of cycling spent cartridges without hitting the scope or damaging the casings for those of you who are into reloading. The Swiss K-31 scope mount is made from a single block of steel and blued to a black finish. Then we added a tunable deflection arm to protect the scope from the spent cartridge when cycling the bolt. The Swiss K-31 scope mount allows the scope to be mounted on the center of the receiver and lets you keep the scope low to the rifle for proper eye relief.
At this time we will install these mounts for our customers.
K31 Mount ejection tuning video
How to ship your rifle in for scope mount installation
Please Read Carefully
How to ship your K-31 rifle in for scope mount installation. Strip the rifle down to just the barreled action   There is no need to remove the trigger, but please include the bolt when shipping your rifle. We recommend that you slip the rifle into a soft gun case. Then pack it into a sturdy box.  Ship via UPS, please make sure to purchase the return shipping slip along with any insurance you would want.
PLEASE BE SURE TO INCLUDE THE FOLLOWING WITH YOUR RIFLE.
VALID DRIVERS LICENSE WITH PHOTO OR OTHER PHOTO ID
RETURN SHIPPING SLIP IN WITH YOUR RIFLE.
Any rifles shipped to the installation facility without the return
shipping tag will not be worked on until the return shipping amount
has been received!  The turn around time for installation on your rifle is approximately
three weeks.
Ship via UPS to
MBT Gunsmith.
427 Clinton Road
Conway, AR 72032
Phone 1- 501-470-9599
malcolmballistictool@gmail.com
PLEASE CONTACT THEM BEFORE SHIPPING YOUR RIFLE!