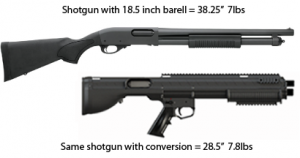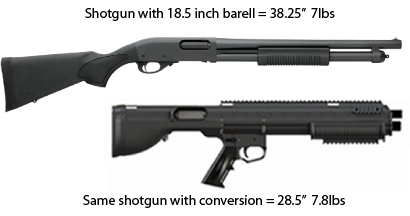 Rock Solid is expanding it's line of accessories with the addition of 2 new products.   The first is a conversion kit for the Remington 870, the second is a conversion kit to fit the Mossberg 500 series shotgun.  Both kits can be installed in less than an hour and come with the tools for installation.  The conversion is made from rugged glass reinforced polymer.
Features and Benefits
Designed to accept a wide variety of aftermarket AR-style accessories
Familiar AR-style grip and safety Split-trigger for increased safety
Variety of rail mounting areas for tactical accessories
Super-smooth and contoured slide release area
Rugged shell deflector for left handed shooters
Ergonomically shaped and easy-to-grip slide forearm
Generous access to loading port
Conversion assembles easily with tools provided
Easy to follow conversion instructions included
Multiple ambidextrous sling points for 1-point and 2-point sling
Field strips with tools included under butt pad
Manufactured from rugged, hi-tech, molded materials
Features an easy-to-grip, non-reflective surface texture
Does not in any way alter the original shotgun
Overall thickness: 2.75", width: 8", length: 28"
Shipping weight: 2 lbs 12 oz, package dimensions: 4"x12" x33"
Can I use a longer barrel (18 inch) and extended mag tube?
Yes, with the open front end design a longer barrel and mag tube can be used. (extended mag tube not included) Will not work with ATI and Wilson Combat extension with large attachment nut.
What guns do these kits work with?
This conversion kit only fits 2 ¾ and 3 inch 12 gauge Remington 870/ Mossberg 500 shotgun with plain barrel with bead sight. It will not work with a 3 1/2 inch receiver, ribbed barrel, 18.5 inch barrel with rifle sights. Mossberg's with bayonet lugs or with a barrel brake that is non-removable. We have found that on some Mossberg's the metal forearm tube is shorter than others, in this case approximately 1-3/16 inch must be cut off the front of our forearm tube so the tube nut can be reinstalled.   Maverick's/Mossberg's with the one piece forearm will not work.
Available NOW from our online store for just 298.00 plus shipping!